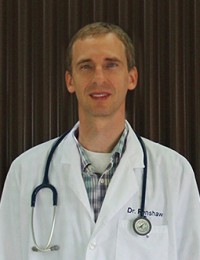 Veterinarian, Director
Education: Michigan State University College of Veterinary Medicine (2003)
Areas of Veterinary Interest: Surgery, Exotic Animal Medicine, Clinical Pathology
Dr. Renshaw has loved taking care of animals since he was very young. As a second generation veterinarian who grew up on a small farm filled with animals, he spent many hours a day tending to his pets. At the age of 10, he realized that his special kinship to animals could be applied to a fun and interesting career as a veterinarian. During his college years, he graduated with a Bachelors in Veterinary Science, followed by a Doctor of Veterinary Medicine at Michigan State University. He has worked at Animal Clinic, Inc. since 2007, after several years at a busy small animal practice in the greater Grand Rapids area.
Since working at Animal Clinic, he has greatly increased the breadth of animals that he treats. Over the years, he has been able to hone his skills in exotic animal medicine and broaden his scope of knowledge to zoological medicine, through his volunteer work for the Wildlife Rehabilitation Center and experience working as a veterinarian at the John Ball Zoo. At the zoo, he has helped care for a wide variety of animals, from primates and large cats to exotic frogs and komodo dragons.
According to Dr. Renshaw, "At Animal Clinic, our main goal is to treat and prevent diseases, which helps and heals pets and puts their owners at ease. This strengthens the human-animal bond, which translates to healthier pets, pet owners, and communities." Dr. Renshaw is dedicated to making a difference in the lives of both pets and their owners. The most fulfilling experiences in his career involved treating pets in emergency situations. He most enjoys the look of satisfaction in the faces of his clients, when the extra efforts made by him and his staff pay off in the end. His hope is that they can see that he cares about each and every pet that he treats as his very own.
Dr. Renshaw enjoys spending time with his wife (Tina), their two young boys (Cameron and Parker), and their cat (Uno). In his spare time, he enjoys fishing, swimming, BBQ, boating and following college athletics.