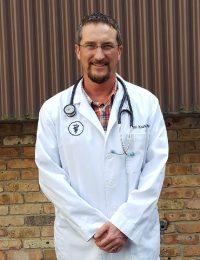 Veterinarian
Education: Ohio State University College of Veterinary Medicine (2001)
Areas of Interest: ultrasound, allergies, surgery and heart disease
Dr. Keane was raised in central Ohio and attended undergraduate school at Miami University in southern Ohio. He graduated with honors from the Ohio State University College of Veterinary Medicine in 2001. He has also lived in Massachusetts, West Virginia, and Tennessee. Dr. Keane has practiced in Michigan since 2006, and he found a permanent home in Grand Rapids in 2010.
Veterinary Medicine was Dr. Keane's calling from a very young age as he always had many pets and spent summer vacation time working on his uncle's farm. The opportunity to practice all aspects of medicine and surgery, for multiple species, made veterinary medicine a career choice that would never become boring. He worked in different roles from kennels, to reception, to assistant before becoming a veterinarian. Dr. Keane has 15 years of experience with ultrasound and has brought this diagnostic tool to Animal Clinic. He also performs ultrasound and echocardiography exams for other local veterinary clinics.
When out of the clinic, Dr. Keane enjoys time in Michigan's great outdoors. His hobbies include camping, fishing, canoeing, kayaking, biking, skiing, mushroom hunting, cooking and gardening.