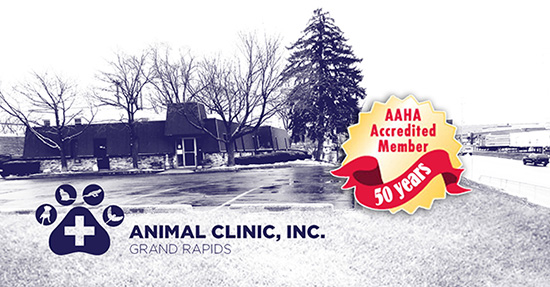 The Animal Clinic is a full-service veterinary medical facility, located in Grand Rapids, MI. The professional and courteous staff at the Animal Clinic provides the best possible medical care, surgical care, dental care, and boarding care for our valued patients.
We go through a rigorous inspection by the American Animal Hospital Association (AAHA) to ensure that we are doing the best job for you and your pet. We are one of the oldest AAHA certified clinics in the United States and we take pride in that fact.
We value all pets. We do not discriminate between feathers, fur, scales, size, number of legs, or color, as we treat a wide variety of animals, including cats, dogs, pocket pets, birds, and reptiles. Animal Clinic vets have served the John Ball Zoo over the past 30 years. We also proudly care for the Grand Rapids Police Department, Muskegon, and Allegan county K-9 unit dogs. We value the animals in nature, so we care for the animals at Wildlife Rehab Center so they can be released back into the wild. We serve several cat rescue groups in the Grand Rapids area as well.
If you're ready to see our expert veterinary team, call Animal Clinic Inc. today at 616-241-3651 or make an appointment now.